A charity single by worship leader Matt Redman featuring rapper LZ7, which highlights the plight of human slaves – has reached number 12 in the UK singles charts.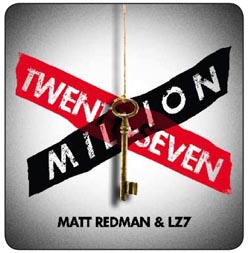 Twenty Seven Million, was the second highest new entry into the top 40 singles charts yesterday.
Fans were delighted to see that the song, which talks about the reality of life faced by some of the estimated twenty seven million human slaves around the world, reached a coveted top twenty slot.
The song, which was sold via download, had actually hit number eight in the midweek listing.
And it entered the UK top 40 one ahead of hotly tipped artists Chiddy Bang, with their track Ray Charles, and eleven places ahead of industry veterans Arctic Monkeys, who hit number 23 with their new track, R U Mine.
The highest new entry was Dappy with Rockstar (featuring Bryan May) who was only held off the top spot by Gotye, whose track 'Somebody I used to know' has been at number one for nine weeks.
The song started life as a conversation between Beth Redman, and Christine Caine, the founder of the A21 Campaign, a non-profit which seeks justice for victims of human trafficking, about the fact that around the world an estimated 27 million people are living as modern day slaves.
This inspired Beth and her husband, worship leader Matt Redman, to collaborate with Lindz and Lucy West of LZ7 to create 'Twenty Seven Million' – which tells the story of a girl trafficked to London to become a sex worker.
Gavin Shuker MP, Chair of the All-Party Parliamentary Group on Prostitution said: "'Twenty Seven Million' is an excellent tool to wake people up to the issue of sexual exploitation, both globally and right here in the UK. We know that public awareness is the foundation for creating real change in society, and I hope this song inspires all who hear it to take action against modern-day slavery."



March 5th, 2012 - Posted & Written by Simon Cross