A group of Christians dragged from the steps of St Paul's Cathedral by police as they knelt in prayer, are to deliver a letter of complaint to Church authorities.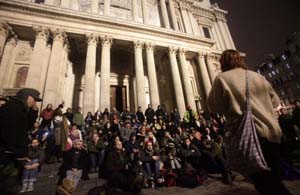 Occupy Protestors on the steps of St Paul's Cathedral after the removal of their tents. (PA)
The five believers were dragged from the Cathedral steps during the eviction of Occupy London Stock Exchange.
Video footage of the eviction taking place shows campaigner Jonathan Bartley, and others, repeatedly asking the police whether they had permission from the Cathedral to remove them from the area.
Now they are asking for a meeting with Cathedral authorities and a clear statement over the cathedral's role in the eviction.
And their letter has been counter-signed by over twenty clergy, who have expressed their support for the requests.
The Cathedral Chapter and the new Dean, Dr David Ison, have yet to give clear answers about the role that the Cathedral authorities played in the eviction.
The court's eviction order applied only to land belonging to the City of London Corporation, but campaigners claim that police told them that they had permission to clear the steps.
The five: Sam Walton, Symon Hill, Siobhan Grimes, Jonathan Bartley and George Barda, will reassemble on the Cathedral steps this morning, before handing in the letter.
March 13th, 2012 - Posted & Written by Simon Cross