A national campaign against criminals stealing lead off church roofs was launched today.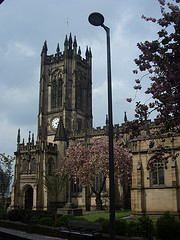 The Hands Off Our Church Roofs scheme has been devised by church insurer Ecclesiastical after 2011 was their worst year on record for metal theft claims.
The initiative aims to see sophisticated electronic alarm systems installed on the roofs of Anglican churches across the country.
The alarms use concealed sensors on the church's roof to detect the presence of a metal thief. Upon activation, the alarms emit powerful blue flashing lights to draw attention to the church while speakers broadcast a loud, recorded message warning the criminal that an alarm has been activated.
Depending on the agreement with the alarm company, an alarm signal will be sent to a remote monitoring unit and will trigger security personnel to attend the scene.
Starting this month, Ecclesiastical will fit alarms to churches in most of the 42 mainland English dioceses and a number of alarms in Scotland and Wales. Signage will then be displayed at all churches to warn thieves of the existence of church roof alarms in the area.
John Coates, Ecclesiastical's director of church insurance said: "The attack on Britain's churches has reached catastrophic proportions and we simply have to do something about it. Every day an average of seven churches are targeted by criminals, who see them as easy pickings."
"The first stage of the campaign is for Ecclesiastical to fit these alarms free of charge to the most at-risk churches in the country. Because we won't be revealing the details of these churches, this will create a deterrent as all churches in the area will display signage.
"Stage two – and this is where we are seeking broad public support – is for other churches to purchase their own alarm systems and thus ensure we make our churches as hard a target as possible for metal thieves. As times are hard, we recognise that in some cases this is going to require fundraising by the church and its local community.
"Britain's churches are woven into the fabric of our national life and our heritage. Our literature and art abound with them. For millions of us, some of the most important milestones of our lives are played out in church – baptisms, weddings, funerals. Everyone can appreciate the beauty of their architecture and the good will they radiate into the communities around them.
"Now their roofs are being casually ripped away by criminals looking for quick cash – criminals who have complete disregard for the damage they inflict. For some churches, it's a case of picking up the pieces and trying to move on; for others, a major theft of roof lead can be a death blow that forces closure. Unless this epidemic of crime is stopped, the place of churches in our society will never be the same again."
The insurer has already piloted the use of roof alarms in more than 100 churches and says that experience has shown where roof alarms have been fitted, metal thefts have reduced significantly or stopped completely.
February 23rd, 2012 - Posted & Written by Sam Hailes