From the Biker Bible edition of the Contemporary English Version (CEV) to Holy Joe's Christian Café, Mike Fitton is man who is kick-starting a revival among Britain's bikers.
Mike brings no judgement in a world which can appear quite alien to anything recognisably Christian. "Our purpose," he insists, "is simply to bring the gospel to bikers of all different ages."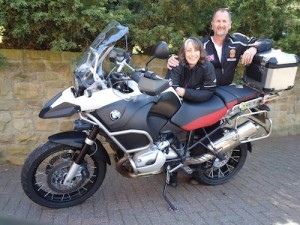 The Word on Two Wheels
Mike Fitton, Chairman of the CMA, brings the Bikers Bible to the two wheeled world.
The Word on two wheels
Mike Fitton is the Christian Motorcyclist Association's national chairman and the man behind the 54,000 copies of the special Contemporary English Version New Testament given away to Britain's motorcyclists since 2007.
As Mike recalls, "I felt God was challenging us to have the faith to print 10,000." His team took 400 Biker Bibles to the Isle of Man Centenary TT. Within 6 hours, 393 were taken." Now, each 10,000 copy run lasts less than 9 months.
If I can ask you one question and the answer is no, I'll leave you then."

Evangelist with real heart
Travelling to motorcycle events across the country, Mike's challeng to bikers is, "If I can ask you one question and the answer is 'no', then I'll leave you alone."
Then Mike asks, "If God exists and knows all about your past and your present, yet still loves you enough to want a relationship with you, would you be interested? To this day, I've never had anybody say 'no'."
Holy Joe's: Biker's Christian Café
One of CMA's most successful initiatives, Holy Joe's serves tea, coffee and hot chocolate 24 hours a day at biker rallies. 5000 people have passed through Holy Joes. "Some of them just come because they love us," Mike says.
"We'll care for them if one of their friends has died. If they've got issues in their lives, we'll talk about them. Or if they just want to go to sleep on the table because they've had too much to drink, we'll get the paramedics to check them out and then just look after them."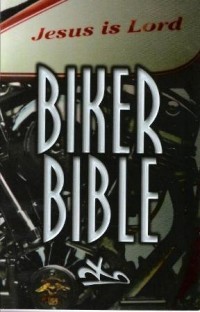 Bikers Bible
Over 54,000 copies of the CEV New Testament have given away to bikers since 2007.
Providing care and prayer
Mike tells the story of one lady that came into the tent shortly after her daughter had committed suicide.
"She had no idea how to cope with it and needed someone to help. Her expectation as a non-Christian was she would walk into the café and the presence of God would solve her problems there and then."
"We prayed for her that God would intervene, heal the pain and she would experience God's love on a one to one basis.
"At the end of it she said, 'I feel like the burden has been lifted' and her eyes filled with tears."
"She went out of the café into the rock and blues tent and brought five of her friends in. It was so reminiscent of how Jesus spoke to the fisherman and one brought the other."
Don't befriend people to win them for Christ, befriend them anyway." - R T Kendall

It's about loving unconditionally
Excited about the work of CMA. Mike counts it a privilege to be heading up the ministry. "I'm always challenged by a comment RT Kendall made. He said, 'Don't befriend people to win them for Christ, befriend them anyway'.
"We love unconditionally and love them through bad times and irrespective of what they've done. Eventually you see hearts that have been so adamant against the gospel breaking down because love bridges the gap."
Want to read more about men and women who took on tough work for God, click on this Christian Biographies link. Or if you know a tough guy you want to introduce to what God can do for them, click this Tough Guy link and find a selection of Christian resources for yours.
August 6th, 2012 - Posted & Written by The Editor