The Grace Outpouring, for those who haven't read it, is a captivating account of how God has healed, restored and delivered hundreds of lives through the work of a small Welsh retreat centre.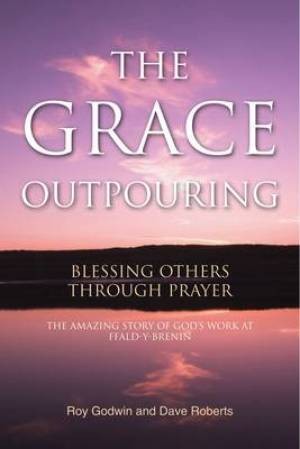 Readers have raved about the book since it's publication four years ago. One called it the most "astonishing and remarkable account of God at work in the British Isles" while others have bought copy after copy to give away to family and friends.
The phenomenal story has been told by Roy Godwin - founder of the centre, and author Dave Roberts. I met with Dave to discuss the book's success, tease out more stories and ask if fans of the first book can expect any follow-ups.
Dave's first impressions of Roy Godwin was that he was "quite quiet". But mesmirised by Roy's words at a conference, Dave was listening intently. "He had these stories of what God was doing and I was bolt upright. I was always on the look out for stories that would make great books. I rang him up a couple of days later and said you need to write that down."
Amazing stories
I asked Dave which of the stories he and Roy compiled in the book have stayed with him.
Wasting no time, Dave immediately answers: "A Buddhist woman came to the retreat because the Buddhist monastery wouldn't let her in, so Roy decided to let her in and see what happens."
"He gave her some Christian material to meditate on and she came to him and said 'you haven't told me the whole story' and he said 'I didn't want to get into that [the gospel].' Then she came back and said 'you haven't told me about the fire' and he's thinking 'fire, what's that? Oh of course fire at Pentecost!' Then he essentially led her to the Lord.
"Two days later she's in a nearby village and goes across to a man and says 'God wants you to know he loves you'. The guy broke down and started weeping, he had been on his knees that morning. He wasn't a Christian but was just desperate saying, 'God send me an angel'. His first words to her were 'are you an angel?'"
The 10 minute rule
Dave believes there are two "trademarks" to what is happening in Ffald-y-Brenin.
Speaking about the first one, Dave says he has observed an "unspoken 10 minute rule" that Roy operates by. "Once they had counseled them for 10 minutes they would send them off to pray," Dave explains, pointing out how this means the Holy Spirit is in control, not the staff at the retreat centre.
Your first reaction should not be one of judgment but blessing
"The other one is a theology of blessing. Your first reaction should not be one of judgment but blessing."
"A guy came up to the site, he was swearing like a trooper, telling bad jokes and Roy just wanted him to leave. The guy was getting worse and he felt the Lord say, 'no, leave him alone'. They got into the chapel and Roy opened the door. The guy went through and fell on his face then he started to shout 'I didn't know you existed! I didn't know you existed!"
Thin places
Miracles at the retreat centre do ebb and flow, but oustanding events have continued since the book's publication. What makes the retreat centre so special? Does God choose to do more miracles in some geographic locations?
"Both Roy and Pete Greig talk about thin places," Dave explains. "There's either a negative or positive spiritual presence which can be more overtly manifest where there have been things that would encourage them."
It's difficult to find people who haven't been impacted by reading The Grace Outpouring. Dave claims that even those who have been sceptical about the continuing work of the Holy Spirit today have "resonated" with the book.
"The narrative is very appealing because it doesn't involve a huge amount of human intervention." Dave posits. "It's very tangible."
The future
So what about a future book? Reluctant to give too much away, Dave uses the phrase "off the record" for the third time in our 25 minute conversation. But speaking for Roy, Dave can reveal, "there is a desire on his part to tell more of the stories and bring out other emphasis."
Living in the aftermath of The Grace Outpouring, the man who also helped Pete Greig write the story of 24/7 prayer in Red Moon Rising, appears to have found another story that needs to be told. Holding his cards to his chest once again, Dave says the man in question has "seen astonishing Holy Spirit stuff". He won't say who the person is, but apparently he's relatively unknown and if all goes according to plan, a book could be on the cards.
So if you thought The Grace Outpouring was astonishing (and who didn't?) it looks like there's plenty more to come, either in the way of a sequal or a totally new story. Either way, it's great to hear that God is continuing to work miracles at Ffald-y-Brenin, long after the book was published.
August 1st, 2012 - Posted & Written by Sam Hailes