This weekend saw two London Bishops- the Right Reverend Paul Williams, Bishop of Kensington and the Bishop of Stepney, Right Reverend Adrian Newman join 300 volunteers from churches across London, for the latest in a series of training events to help churches prepare for the London 2012 Olympics.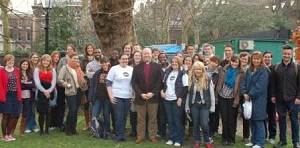 The session, which was held at Holy Trinity, Brompton Road, included talks and seminars to help prepare church volunteers to get involved with outreach during this summer's Olympics. Themes included social justice, the Paralympics, and Youth Outreach.
The Bishop of Kensington, the Right Reverend Paul Williams, said: "It was inspiring to meet with such a motivated and engaging group of young Christians who are fully committed to serving the purposes of Christ in this world city. It is exciting to see them sharing Christian faith with all who live in and visit London, especially in this Jubilee and Olympic year."
The event is part of 'the2012', an initiative of the Diocese of London in partnership with More than Gold, the organisation working to equip UK churches to engage with the 2012 Games.
The program aims to train and mobilise more than 2000 young people to serve across London during this summer's Olympics and beyond. Members of 'the2012' will have the opportunity to serve on a variety of mission and service projects surrounding the Olympics & Paralympics- whether its distributing water to spectators or running a week long parish holiday sport club for children.
Reverend Ruth Bushyager, the co-coordinator leading the project said: "we as a Diocese are investing in 'the2012' – a new generation of mission-focussed disciples, drawn from every postcode and every walk of life.
It is hugely exciting to be part of leading this. We believe our young people are not the church of tomorrow, they are the church today, and we are committed to seeing them mobilised, equipped, encouraged and released to do all that God is calling them to."
We are aiming to see each person take the next step of confidence in being able to impact their communities with the Gospel – by knowing, living, and sharing Christ in this Olympic year and in the years to come."
March 13th, 2012 - Posted & Written by Riyaza Rodriguez