I've been invited to a baptism! What gift should I buy?
When my children were born, the planning of the baptism was a very special event. We wanted family and friends to celebrate with us the gift of each child and to be there to see that having God in the centre of it all mattered to us.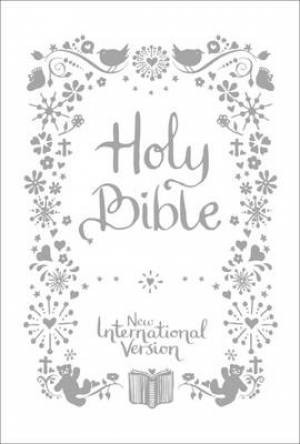 People clearly wanted to bring a gift and there seemed to be so many traditions about what to bring: silver spoons, pewter letter openers (what?!), Beatrix Potter mugs and plates, a small leather-bound Prayer Book with tiny print that I don't think has ever been opened…
No one bought a Children's Bible. Maybe they thought we knew it all? But one of the most important things for me was having a good Children's Bible which enabled me to read to my children the stories that formed the backbone of Christian understanding while they were young and were illustrated in a way that kept their interest. I wanted them to know the Christian God whom I knew and had come to love – and had given me the gift of a family.
Time has moved on and every month there are baptisms held in our Parish Church. We welcome families who, just like us, want to bring family and friends to celebrate and put God in the centre. What seems clear is that most of those who come for baptism, and certainly even more of their friends, are not as 'at home' as us with places of worship, concepts of God, what it means to pray, and probably, have little idea of the Bible stories that an older generation grew up with.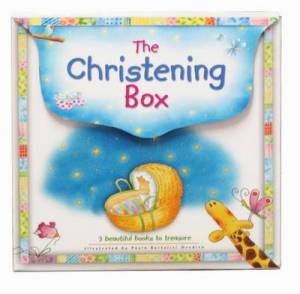 How can we help parents teach their children what they do not know themselves? In writing and compiling 'The Christening Box' (also The Baby Box and Baby Dedication Box), that was my first concern, coupled with the publisher's desire to produce a gift with a certain novelty and appeal. It has a handle with a string and looks pretty! Inside there are three books.
The first book looks like any traditional baby gift and makes that vital connection with parents. It's a record book! It can record all those special baby moments – and it can become a treasured keepsake. In it are Bible verses and prayers that turn our thoughts to God who made us, loves us and wants us to know him – and simple prayers that we can pray with children. Even its structure helps us to see what might be important in bringing a child to a knowledge of God.
The second is a collection of Bible stories – a taster, a starter pack, of those stories we all used to know. It speaks of the great loving creator God, contains the Ten Commandments and introduces Jesus, his life, teaching, death and resurrection.
The third is a prayer book, but unlike the one given to my child, it has simple words and pictures that connect the real world children occupy with the God who is there to listen to all they want to share with him.
'The Christening Box' is a beautiful gift which helps parents to do what they promise to do at a child's baptism, and makes doing so enjoyable in bringing them together as a family, learning together about God's love and teaching them the best way to live.
I wish it – and Sarah Grace Publishing and Eden! – had been there when my babies were born.
Bethan James, is a former teacher and youth worker, has written a number of books for children.

June 11th, 2018 - Posted & Written by The Editor