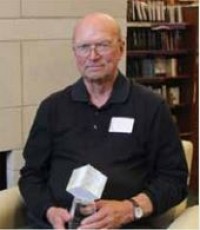 Christian Retailing magazine honoured Richard Baker, chairman of the board for the Baker Book House Company, with a VIP (Visionary Industry Pioneer) award at Baker Publishing Group's 75th Anniversary Reception in April.

CR's editor, Christine D Johnson, presented the award at the event at the Baker Book House retail store. Previous recipients of the award include Ken Taylor, founder of Tyndale House Publishers and Bill Greig II of Gospel Light. The citation stated "Christian Retailing honors Richard Baker of Baker Publishing Group for building one of America's great publishing companies and blessing the lives of millions."

Richard Baker began working for the company 'as a youth' and worked his way up the ranks eventually serving as President of the company from 1987 to 1997. He describes his work at Baker Books house as "the only job I ever had".
April 9th, 2014 - Posted & Written by Together Magazine