The Archbishop of Canterbury, Dr Rowan Williams, announced his retirement from the role of head of the Church of England today.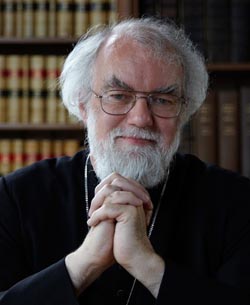 The Archbishop of Canterbury, Dr Rowan Williams, has resigned.
Dr Williams, 61, announced he was stepping down from the role which he has held since 2002, when he succeeded Dr George Carey. He will officially leave at the end of 2012.
It is thought that he will take up an academic post at Cambridge University, where he studied Theology in the 1970s.
An internationally renowned scholar and theologian, Rowan Williams has had a turbulent decade as the head of the church, dogged by arguments over women Bishops, homosexual marriages, and an exodus of conservatives to the Catholic church.
But despite the controversies which have beset him, he has managed to retain the love and respect of many inside and outside of the church.
On a recent visit to Rome, Dr Williams spent time with Pope Benedict, with whom he has maintained friendly relations, despite the spectacle of Anglican priests converting to Rome via the Ordinariate.
Prior to being appointed to the role at Canterbury, Rowan Williams was Archbishop of Wales, and the promotion made him the first Welshman to hold the office, indeed he is the first non-Englishman to hold the post for around 700 years.
Rumours of his retirement have abounded over the last twelve months, there was pressure from other clerics, including the Bishop of London, Rt Rev Richard Chartres, and Dr Williams is also believed to have told friends he wanted to give his successor enough time to prepare for the next Lambeth Conference.
His recent outspoken criticisms of Government policy have also left many wondering if he no longer had the appetite for the role.
Now speculation over who might replace him is likely to become feverish, with different factions within the church each promoting their own candidate. The Archbishop of York, Dr John Sentamu, is a strong candidate, but he also has a growing opposition, who are sometimes known by his episcopal initials 'ABY', which they refer to as 'anyone but York'.
Other contendors might include the theologian and former Bishop of Durham, Tom Wright; Richard Chartres, Bishop of London; and Nick Baines, the Bishop of Bradford.
March 16th, 2012 - Posted & Written by Simon Cross