Introducing a new way to share a world of Christian resources this Christmas: the all new Eden Gift Cards. Giving you new ways to share your faith, our new gift cards offer flexibility and a range of attractive designs.
Choose your Gift: Card or Voucher
There are now two ways you can share a world of Christian resources.
The gift voucher is a digital-only voucher that comes in four designs, and can have a personalised message appear on it.
Gift Cards are physical, plastic cards that be put inside of cards, mailed in the post, or given by hand. They are the same shape, size, and material as most other store and bank cards.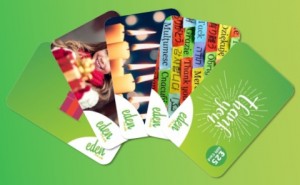 All of our set-value gift cards can be bought in the following prices:
Mutiples of £5, £10, £15, £20. £25, £30, £40, and £50
Choose your design
Our fixed-value Gift Cards come in a range of over 15 designs, from the colourful to the Christmassy. Perfect for suiting any occasion.
But it doesn't end there….
If you spend over £150 at a time on Gift Cards, over any number of cards, you can have your very own design of Gift Card. From Church logos to family photos to favourite Bible verses, you can make them unique to you! Simply pop us an email at service@eden.co.uk and we'll work with you to create the perfect Gift Card design.
Choose your presentation
There are three ways you can receive your Gift Card.
The standard presentation includes a backing card

You can order your gift card to come with a presentation card to add a bit more occasion to your Card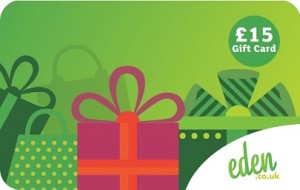 Any Questions?
Can I use a gift card with a money-off voucher?
Yes. The cards count as a cash value on our site, and can be spent in conjunction with special offers and vouchers.
Do they have an expiry date?
The Gift Cards are valid for 18 months from the Card's dispatch date.
Can I do mixed payment?
Yes. Simple enter the Gift Card number in the checkout page, and their value will be deducted from your overall total.
Do they work overseas?
Yes. All of our prices are in GBP, so there is no currency conversion necessary.
How long do they take to be delivered?
The Gift Cards come straight from us, and so can be delivered to you the very next day if you select 'Next-Day Delivery'.
Check out our full range of Gift Cards here.

October 27th, 2017 - Posted & Written by Aaron Lewendon