Every day this Advent we will be sharing reflections from Christian authors. Today's is by Michael Green.

Advent is upon us! I guess that immediately brings to your mind the rush to get presents for Christmas? Or if you are a bit more thoughtful, it is a period to remind yourself of the coming of Jesus Christ into this broken world. And that evokes both feelings of gratitude and also a determination to follow him more closely. But in the ancient church, and much of the developing world today, Advent means something very different. The New Testament looks forward to the day at the end of history when Jesus will return to this earth to reign. Paradise Lost will become Paradise Regained at his return. Every eye will see him, we are told, and the kingdoms of this world will become the kingdoms of our Lord. The one who humbled himself to death, even death on a cross, is highly exalted by his heavenly Father, and one day every knee will bow to him, and every tongue will confess that Jesus is Lord, to the glory of God the Father. That is the Christian hope. It is alluded to about once every 14 verses in the New Testament. It pervades the writings of the early Christian Fathers. And yet you rarely hear it mentioned today, even on the second Sunday in Advent when not only the Advent collect but the Book of Common Prayer lays particular emphasis on it!
Not only is it the major Christian hope for the future, but it is something which we can work towards by the spreading of the gospel. St. Peter in his second letter speaks of 'hastening the day of the Lord' by evangelism. And that is one of the elements that ought to be very prominent in this Advent season. Accordingly I have just been on the continent pursuing that goal. Europe is a dark continent, largely post-Christian, with the great churches of Roman Catholicism and Orthodoxy unable to reach young people today. If you want to change the world, you need to change the university. They are crucial because they hold the future leadership. A decade ago there were only a couple of university evangelistic missions on the whole continent in a year – in Germany, although they were and continue to be an annual event in most UK universities. But in this last ten years a number of European evangelists have been raised up , competent to proclaim and defend the message of the New Testament in the public square. Now there are more than 100 such people and we meet in a loose association once a year. This year it was in Prague, where we heard of more than 40 missions being held this year in as many European countries. After the conference various evangelistic missions took place in leading universities of several countries. I was invited to Bucharest. It was wonderful to see the small Christian group so passionate to pass on the good news of Jesus to their colleagues. We saw a number of students professing faith, and follow-up groups are taking place as I write!
Yes, in Advent we look back in gratitude to the first coming of Jesus Christ, and forward in faith to his second coming, even though we cannot imagine what that could mean.. But it is a great stimulus to Christian hope and Christian service. So the publishers at SPCK invited my wife Rosemary and myself to write some reflections on 25 prayers from the Old Testament leading up to the birth of Jesus, and we have done so in the book chosen by the Archbishop of York for this Advent season, called In Touch With God. It could be a real refreshment for your own devotional life – as it was for us as we wrote it!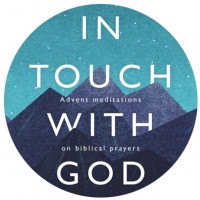 Dr Michael Green is an Honorary Fellow of Wycliffe Hall, Oxford, a world-renowned evangelist and author of more than fifty books. Rosemary Green is a lay pastoral counsellor, author of God's Catalyst and a regular contributor to Bible Reading Fellowship's Bible reading notes.
In Touch with God is The Archbishop of York's Advent book for 2017.
December 7th, 2017 - Posted & Written by The Editor