Every day this Advent we will be sharing reflections from Christian authors. Today's is by Paul Fletcher.

Christmas Treasures
As the summer sun departs and I face the long nights of winter ahead, plans for Christmas have a way of filling up my agendas. This year, those of us living in Western Canada have experienced the sudden onset of winter without the usual slower decline through autumn. Where I live in Alberta, sudden snowfalls beginning in September caught us off guard. I suppose that for many people there is little significance to this phenomenon, yet for others like me this is a sign of significant changes happening to life. Like the changing of seasons, I am sometimes confronted with uncontrollable challenges in my life that are unavoidable, distasteful, or even ugly.
Christmas...? Christmas has a way of amplifying the storms I am trying to sail through. The unwelcome shock of winter has spoiled many of our plans as we head towards Christmas.
Christmas cheer and tradition can become hollow when we face overwhelming circumstances, stress or heartache. When we slow down to reflect on past Christmases - when we scan through family photographs and tears begin to flow, when an old song keeps swirling through our minds and keeps us awake at night, when we are face to face with the sudden departure of a child, brother, sister, parent, or the untimely death of a loved one - the traditional "celebrations" of Christmas lose their primary importance. For many people, Christmas can be such a difficult time of year!
For me, Christmas is now, more than ever, defined by family memories. Birthdays, anniversaries, special holidays are minor calendar events compared to Christmas. Christmas is the prime time when we exercise an intentional spirit of peace and good will towards each other. We take those special family photographs on Christmas morning or with the Grandpas and Grandmas around the dinner table. We may even include "extended family" like friends and neighbors. Christmas is about creating memories – memories baby's first Christmas, the children growing up, becoming teenagers … well, you can add to the timeline can't you. Every Christmas marks a year of growth and change for the entire family as a single unit although not all the changes are happy or good.
It wasn't until my own children became adults then parents with their own homes that Christmas evolved from the preoccupation of shopping for gifts into the priceless treasures that could be stored in my heart never to be lost – gifts of love and life. A photograph, a song, or the voice of an old friend reminds me that Christmas may change with each passing year but the memories linger and accumulate.
This Christmas will not be like the previous ones. Today most of my children are many miles from home raising their own families. My home at Christmas will be much emptier than before. And, while my heart indulges in nostalgia, I know those memories are cherished treasures to be lovingly unwrapped again.
---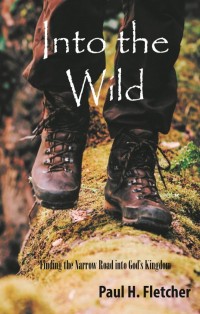 Into The Wild by Paul H. Fletcher:
Follow the author's down to earth Christian testimony in this diary of personal spiritual reflections. Join him as he treks on foot through the beautiful and wild countryside of Canada, finding inspiration wherever he goes. The book also includes the author's own photos of the landscape.

December 5th, 2018 - Posted & Written by The Editor