Every day this Advent we will be sharing reflections from Christian authors. Today's is by Andy Robb.

What does Christmas mean to you?
If you asked that question in a vox pop, out on the street, I'd imagine that a typical response would be, "time together as a family".
Whilst it's easy for us Christians to knock this sentimental statement because it sidelines Jesus I think that it unknowingly hits upon something deeper and intrinsic to Christmas that actually reflects the heart of God for all humanity.
God's heart has always been to draw us back into his family, through Jesus, and it should be no surprise that mankind, created in the image of God, retains an innate longing for what was lost in the Garden of Eden.
Our natural families are a reflection of the eternal family of Father, Son and Holy Spirit and can point us heavenward if we'll allow it.
When I wrote my '50 Christmasiest Bible Stories' (shameless plug) it wasn't with the aim of having a Christmas product which could be rolled out year on year - think pop group Slade! - but to write a book which encapsulated God's heart to bring us back into relationship with him.
From Genesis to Revelation we can see God's redemption narrative calling us back to be part of his family.
Which explains how I managed to find 50 Christmassy stories in the Bible.
When push comes to shove, everything in the Bible ultimately centres around Jesus.
The voice of the prophets, the Law, the key figures - all remind us that God has never ceased to love us and that he has a plan for restoring us to himself.
It's tempting to take a poke at the peripheral things of Christmas that can sometimes obscure Jesus but what if we major on the uniting theme of family.
In doing so we can use it as a springboard to pray for those we know who have yet to make Jesus as their Saviour and Lord, that they respond to God's invitation, through Jesus, to become part of his eternal family.
---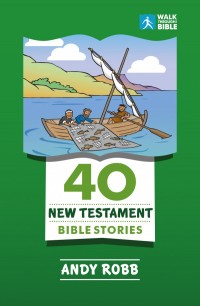 40 New Testament Bible Stories by Andy Robb:
Enjoy snapshots from the New Testament, which help you grasp the overall storyline of the Bible and how it is one, giant story! Each story gives you the 'in a nutshell' gist of a Bible character or story, helping you learn more about the character of God along the way. Written and illustrated by Andy Robb, in partnership with Walk Through the Bible.

December 3rd, 2018 - Posted & Written by The Editor