Every day this Advent we will be sharing reflections from Christian authors. Today's is by Emily Owen.

My niece started wriggling about as I read the story, so I stopped and asked if she was ok. Fervent nod, followed by more wriggling. In the end, I asked if she needed to go to the bathroom?
"Yes, but I can't or I will miss the story!"
I reached out my hand in front of me, and told her to do the same. Together, we pressed down on an imaginary 'pause button'. I assured her I'd not read any more until she got back. She wouldn't miss out on the story.
Mary had a spectacular 'pause button' pressed on her life. Time probably ceased to exist as she tried to take in all the angel had told her: What? A baby? God's son? Inside her? Immanuel? Jesus was coming?
One minute, Mary had been going about her daily life. The next, the entire focus of her daily life had changed.
Because Jesus was coming.
In the busyness of Advent, do you need to press pause and make sure that, like my niece, you don't miss out on the story?
Don't miss out on the real story of Christmas?
Jesus is coming.
If I hadn't paused, my niece would have missed some of the story. Maybe she'd never have known that Goldilocks chooses baby bear's porridge!
If you don't pause amid all the parties and presents and gift-wrapping and mince-pie making,
you might miss some of the story.
The most important part.
The part which says Christmas is all about a baby.
The part which says the baby was heaven sent.
God with us.
God with you.
Immanuel.
A baby, yet a King.
Light of the world.
Light of your world.
Isaiah 9:2 NLT The people who walk in darkness will see a great light. For those who live in a land of deep darkness, a light will shine.
As you wait for Christmas, may your waiting be full not only of busyness, but of pauses. Pauses which, rather than causing you to miss out, mean that you can fully enjoy the story.
Because, when all is said and done,
when the last brussels sprout has been eaten
and the final discarded bit of wrapping paper cleared away,
when the tree has been taken down and the parties are over,
that baby you met in the pauses,
the one who came alongside all the other stuff,
is here to stay.
His story is only just beginning.
And He wants to share it with you.
Don't miss out on the real story of Christmas.
Isaiah 9:6 For a child is born…
Jesus is coming.
Pause a moment and let that sink in.
Jesus.
Is.
Coming.
Father God,
In the busyness, may we make time to stop.
Help us give ourselves permission to pause.
And, in our pausing, may we find the presence of the coming child:
Wonderful Counsellor, Mighty God,
Everlasting Father, Prince of Peace.
Amen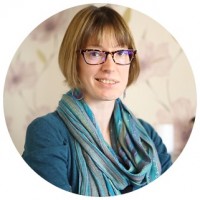 Emily Owen grew up in Leicester. Aged 16, she was diagnosed with a rare neurological condition, neurofibromatosis type 2, which has led to numerous operations and left her deaf. Emily speaks at meetings and events, both Christian and secular, and enjoys sharing her life experiences. She is also a trustee of the Neuro Foundation which supports those living with neurofibromatosis.
Her book Still Emily tells of her younger years, grappling with Neurofibromatosis Type 2, and learning to see value in new places, seeing the rainbows in the silence.
December 20th, 2017 - Posted & Written by The Editor