Every day this Advent we will be sharing reflections from Christian authors. Today's is by Magdalen Smith.

Lucy – New Eyes
My family and I spent 4 days in northern Finland in 2015. A geography teacher friend of ours told us that the sun officially goes down there on 4th December and would not re-emerge again until around the 8th January. Our experience was indeed only 4 hours of daylight with the sky holding a kind of grey heaviness throughout, characteristic of such snow-filled lands.
Advent falls at a dark time of year. As residents of the northern hemisphere we remember that we are people who respond to the light as we struggle to get out of bed on gloomy mornings. For people of faith we know that such an experience is part of a spirituality of waiting, anticipating the events of Christmas, Jesus the Light coming again into the world. As contemporary human people walking through December we encounter a visual feast – witty window displays and civic decorations in our villages and towns.
Those of us who have functioning sight are grateful for it but like many ordinary gifts our gratitude remains parked on the shelves of everyday forgetfulness. Those people who cannot see or have impaired vision speak of a heightened awareness of their other senses, the acute 'sensing' of life that most of us understand primarily through the ocular. Jesus's challenge to those who followed him was to look with renewed vision at the world of earthly reality and to discern, notice, sense a beauty within it which points to the reality of God. A beauty which can only be discernible through a grace-filled attitude to the world.
St Lucy, whose feast we celebrate on December 13th knew all about sight. As a new Christian of 4th century Sicily, she gave away her possessions to the poor and was betrayed by her angry fiancée who informed these authorities of her rebel faith. Lucy has become famous for enduring the horrific removal of her eyes. Yet legend tells that whilst her body was being prepared for burial it was discovered that her eyes had been miraculously restored. It is a terrible thing to be robed or to naturally lose your sight. A gruesome scene in the recent Bond film, Spectre showed the villain blinding a victim with his bare hands. It is one of the ultimate acts not only of cruelty but of stripping someone of their autonomy and individuality, our eyes are the windows of our souls. Lucy's name in Latin means 'light' and she has become associated with the one true Light who believers eagerly await as the redeeming hope of the world. In Sweden candlelit processions mark her festival.
On the sea front in Hove, Brighton each year, 25 beach huts transform themselves into a 'living Advent calendar' which owners decorate around a theme such as 'Christmas carols'. Every evening one hut 'opens' just like a traditional Advent Calendar window as the tableau grows, communicating that Advent is a time of waiting and expectancy, that the Christmas event is worth patience and pondering and that God only ever partially reveals his majesty and beauty to the world. It is a chance for local people to explore the poetry and theology in the age-old themes we know as part of faith and culture throughout Advent, a fusion of secular and sacred marking and celebration in a local context.
Beach huts are, of course, traditional 'small spaces' where people can enjoy temporary shelter from a too fresh wind on a typical British summer day. They are places of strange comfort and shelter, adaptable spaces as demonstrated in the above project. Advent culminates in the occasion of another such adaptable space – the stable – a non-ideal venue for the birth of the Saviour of the world but one nevertheless which radiated with a warmth of a temporary community which gathered around the beautiful and vulnerable child who was Jesus.
Advent calls us to re-inhabit our usual spaces and places and to see them and the world in renewed wonder, with defined vision. For us then it is about refusing to make this season an inward groan, a material headache, a joyless and rushed month. It is about relishing the opportunity to see God coming to earth again, cutting through a hopeless and sometimes cynical mind set with a renewed and holy vision.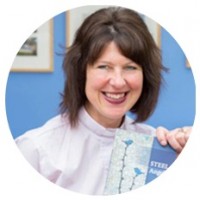 Magdalen Smith is Diocean Director of Ordinands and a priest in the Diocese of Chester. She has a background in the visual arts and is interested in the dialogue between faith and contemporary culture.
Her latest book, an Advent Guide called Unearthy Beauty is available to order today.
December 17th, 2017 - Posted & Written by The Editor