Every day this Advent we will be sharing reflections from Christian authors. Today's is by Mathew Bartlett.

The Glory of God
And they were calling to one another: "Holy, holy, holy is the Lord Almighty; the whole earth is full of his glory." (Isaiah 6:3)
At this present time, large parts of the world are filled with violence, and news of inhuman acts fill our newspapers and television screens. Since the end of hostilities in the Second World War, there has not been a single day in which war has not continued somewhere on the planet.
The world of Isaiah's day was also experiencing the scourge of war, due to the ruthless expansion of the Assyrian empire. Yet Isaiah had hope both for the present and the future. Today we will consider his present hope, and tomorrow his future hope.
In chapter 6, above all the strife of the world, Isaiah sees a vision of God, exalted on his throne, worshipped by powerful angels. These angels continually cry that God is holy: whether in times of war or peace, he is beyond the wickedness and sin which pollutes our world, and even now he is reigning.
The whole earth is—at this present time—full of God's glory as seen in creation. If men took time to look up from their guns, they would glimpse the beautiful heavens, the grandeur of the mountains and rivers, the delicate beauty of the butterfly. For me, one of the most iconic moments in cinema occurs in Gladiator, when after the carnage of war, director Ridley Scot pans out to a scene of a robin singing in the snow, for me a depiction of the whole of creation crying out to humanity: stop the violence, be still, and behold God's glory!
Prayer: Lord, we thank you that although the earth is full of violence, you sit above the strife, speaking words of peace, love and reconciliation for the world. At this advent season, grant that we may be still to hear the angels singing 'holy, holy, holy, is the Lord Almighty: the whole earth is full of his glory'. In Jesus name. Amen.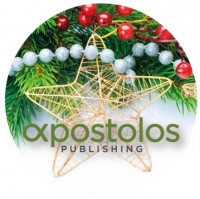 Today's devotional was taken from His Name is Wonderful by Mathew Bartlett. The book focuses on daily readings for Advent from Isaiah, and was published by Apostolos Publishing.
December 13th, 2017 - Posted & Written by The Editor