Every day this Advent we will be sharing reflections from Christian authors. Today's is by Jim Flanigan.

It must have been a profound shock and disappointment to Joseph to learn of Mary's condition. He was a righteous man, and no doubt he had espoused the lowly maiden from Nazareth because of her piety. But he was, too, like those other Josephs, a good man (Lk 23.50; Acts 11.24), and being such a man he would deal gently and compassionately with the maid. His righteousness required that he must put her away, but even the law at times dealt charitably with such cases as Joseph now supposes (Deut 22.26), and Joseph resolves to put Mary away as quietly as possible.
Then, while he pondered in his perplexity, an angelic visitation brought relief to him. Not "the" angel of the Lord, as in our AV, but "an" angel of the Lord. "The" angel of the Lord was even now in the womb of the virgin! In a dream the word comes to Joseph, "Fear not…". This is the first of five dreams in these first two chapters of Matthew's Gospel. (See also 2.12,13,19,22).
The angel addresses Joseph in dignified terms, calling him "son of David". He may be but a carpenter of Nazareth, but he is a son of David with a place in God's purpose and plan. Perhaps there is a reminder here to us, that even in our humble status, and lowly station in life, there is a divine pattern for our lives and a privileged role for us in heaven's plan.
Mary's Child has been begotten by the Holy Spirit. The Seed of the woman will soon make His advent, and Mary is His chosen vessel. The Child will be the fruit of her womb (Lk 1.42). Luke the Doctor will give a more detailed account of those early days, and of Mary's visit to her cousin Elizabeth, but Matthew, in accord with the theme and character of his Gospel, will tell us that it all came to pass that the Scriptures might be fulfilled. Here is a specific reference to Isaiah 7.14, and it will be a feature of Matthew that he will keep quoting Old Testament Scriptures.
Someone has said that Matthew's Gospel is like a mighty tree, with uncountable twigs and branches reaching upward into the new dispensation and the millennium, but with massive roots sunk deeply into Old Testament prophecies. This indeed is how it is.
Joseph awakes from his dream. The Child will be Emmanuel – "God with us". Mary's firstborn Son will be Incarnate Deity. Jesus, Saviour of His people from their sins, is none other than Jehovah of the Old Testament and of Israel's history. Joseph does as he is bidden, and so the delightful story unfolds. The desire expressed in that simple hymn of our childhood is indeed so very relevant –
Tell me the story of Jesus,
Write on my heart every word,
Tell me the story most precious,
Sweetest that ever was heard.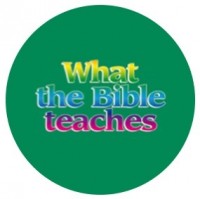 Jim Flanigan (1931-2014) was the author of books that offered a thoughtful look into the Bible. His What the Bible Teaches series, book by book, explores the messages that can be drawn upon from a deep reading of the Bible.
December 12th, 2017 - Posted & Written by The Editor