Every day this Advent we will be sharing reflections from Christian authors. Today's is by Magdalen Smith.

Arrivals are often mixed blessings as the playwright Alan Bennett discovered when he allowed a certain Miss Shepherd to park her dilapidated van on his drive. She stayed for 15 years. Ex-nun and bag-lady, Miss Shepherd was dirty, eccentric, obstreperous and mostly ungrateful for the gentle kindness she received from Bennet over the years. The 2015 film The Lady in the Van comically portrays the relationship she had with him and the other members of Gloucester Road, the street she made her home between 1964-1979. Miss Shepherd was no saint and probably neither is Alan Bennet but her presence drew out of this writer what became far more than a functional response. Despite of her being a genuinely difficult person, through the offering of long term hospitality and the keeping of a watchful eye, Bennett's compassionate pragmatism expanded his humanity; he became a bigger person.
Advent is about arrival too – the arrival of Jesus into our world in poverty and vulnerability amidst unusual circumstances. For the world then, as now, this arrival generated a mixed response from a variety of people – anxiety, threat, expectation and hope. As Christians today we too are asked for a renewed response each year. And in our age of frenetic busyness we anticipate Christmas with a similar mixed sentiment. Our hearts often sinking as we realise the shops have got there before us, already glibly decorated by the end of November as we struggle to catch up, anxious that we will not be ready for Christmas and all that it demands materially and emotionally.
At this time of year, we remember those people who have been significant for us in the past. At the end of November, the church celebrates All Saints and All Souls. All Souls is making a comeback – a renewed church service that people 'get' – it feels increasingly important for many to remember loved ones, incorporated into the 'communion of saints' who have died from the past year and beyond. Such people might have inspired us to be better people, might have demonstrated a faithfulness to us; ordinary yet extraordinary, they are also people who might simply have just landed up in our lives like Miss Shepherd.
Like Miss Shepherd, saints ironically do not always feel very saintly – they are weird and colourful people, often driven and visionary, living strange and unconventional lives. Often, they live distinctively, sometimes unusually and by doing so, grab our attention. We love people who are different as well as people who are brave, who have the courage to 'keep the faith' in whatever way, individuals who live intentionally with our faith's distinguishing marks upon them – as they rail against living in a monochrome and often cruel world. Often their brokenness through divine transformation inspires us, their eccentric habits enable us to look on our own lifestyles with new vision, their sacrifice a challenge to be more compassionate people. Turning away from the sign of the times, going against the flow they grasp a more powerful Kingdom vision. Embedded in their lives is a mysterious dynamic happening that, however strange, kindles in us a renewed response to the world, enabling us to move closer to holiness, to be more filled with love ourselves. These are people like Miss Shepherd, who for all their quirky quaintness and 'vagabond nobility', inspire us to be far less ordinary than we often allow our lives to become. They are people of unearthly beauty who show us a deeper understanding of the fluid nature of divine grace.
Advent sweeps in like a sudden bitter wind, taking our breath away with its icy freshness, challenging us to rethink this season, nudging us to relive it with renewed imagination. It is a time to reflect again on some of the saints we remember in December as well as the age-old familiar characters of the Christmas story. Advent is an opportunity for us to prepare for the momentous events of the Incarnation, the extraordinary happening of God becoming man, the fact not of the abandonment of the earth but the adventure of a God who lives and loves amongst his people always.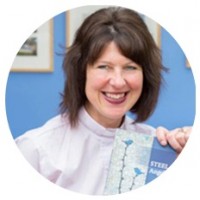 Magdalen Smith is Diocean Director of Ordinands and a priest in the Diocese of Chester. She has a background in the visual arts and is interested in the dialogue between faith and contemporary culture.
Her latest book, Unearthy Beauty is available to order today.
December 2nd, 2017 - Posted & Written by The Editor