The UK's Catholic Medical Association annual symposium this year is called "A light shines in the darkness". Taking place on 5 May 2012, at the Leeds Diocesan Pastoral and Conference Centre, Hinsley Hall, it will be focusing on providing a Catholic perspective on mental health.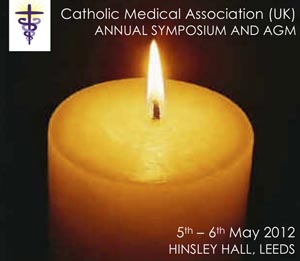 Recognising the needs of various people within society Pope Benedict XVI said in one of his 2008's monthly intentions: "I invite you to pray for those with mental health difficulties: that they are not placed on the margins, but treated with respect and lovingly supported as they live their life with dignity."
The Catholic Medical Association (CMA) aims to help Catholic healthcare and medical professionals and students to integrate their faith and clinical practice.
The Leeds Branch of CMA, recognising the often hidden suffering of people with mental health difficulties, remembered the Pope's intention and believe the subject of the symposium is their way of actively responding to it:
"The care that we have for the weakest in society is a reflection of the key Judeo-Christian principle that everyone has equal dignity no matter what attributes or abilities they have. People with mental health problems suffer not only from their disease, but often also an associated stigma.
"As such, healthcare and medical professionals encounter those with mental health difficulties in a distinct way. It is often a moment in which a person is highly vulnerable. The symposium aims to strengthen medical and healthcare professionals' understanding of this relationship and draw Christ into the centre of it so to serve our brothers and sisters and, therefore, Christ.
Christ's centrality is also evident in parishes. They have the potential to be a great support network for people with mental health problems, and healthcare professionals, hopefully with an enhanced understanding of mental health through this symposium, are well placed to take the lead in parish initiatives."
The symposium programme covers spirituality and mental health, a Catholic perspective on psychiatry and stigma and discrimination and includes speakers Emeritus Professor Peter Gilbert, Sister Margaret Atkins, Ms Trish Gale, Dr Pravin Thevasathan and Mr Chris Butler.
Dr Pravin Thevasathan said: "From a Christian perspective, people with mental health problems often have to deal with spiritual issues. For example, depressed people may start having doubts about the existence of God and they need to be helped in a non-coercive way."
The event, which is aimed at raising the profile of mental health issues generally, is open to members of the public as well as healthcare professionals and students. For more information, or to book a place, click here.
March 5th, 2012 - Posted & Written by Claire Musters