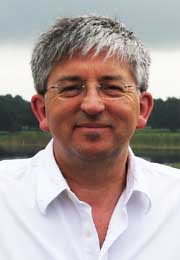 Anti Zionist vicar Stephen Sizer, 58, is not an anti Semite, say church authorities.
But the outspoken vicar of Christ Church Virginia Water, who has been openly critical of Christian Zionism, has been branded a 'disgrace' by a fellow clergyman.

The son of Conservative MP Michael Howard, Rev Nick Howard had previously accused Sizer of spreading Anti-Semetic rumours.
In a joint statement with the Diocese of Guilford, Bishop Christopher Hill has argued Rev Sizer has made it clear on many occasions that he "repudiates antisemitism".
Rev Sizer has also responded by removing the link and stating that "It is presumptuous to assume citing the source of an article means one endorses anything else on the website."
Despite some Jewish groups and Anglican Friends of Israel calling for an investigation, the Diocese of Guilford has refused on the basis that "there is nothing to investigate".
January 13th, 2012 - Posted & Written by Sam Hailes