A Benedictine monk who abused two pupils whilst working as a teacher at Downside school, has been jailed for five years.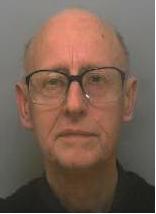 Paedophile Richard White, 66, paid one boy 50p each time he performed a sex act, when he abused him during the 1980s.
But the matter was not made public at the time, when monastic authorities and the family of one of the boys chose not to speak out.
Downside in Stratton-on-the-Fosse near Bath, Somerset is a leading independent Catholic school with around 1500 pupils, whose parents pay fees of £25,000 per year.
It is run by Downside Abbey, a Benedictine abbey which is home a community of 27 Benedictine monks.
Taunton Crown Court heard that White, a former Army Officer, was warned about his behaviour, but instead of contacting police, authorities at the school ensured that the monk was kept away from young children.
Despite an article about the scandal by the News of the World, no complaint was made to the police. White's crimes were only discovered during an investigation into other allegations, when officers discovered a file in school records detailing the offences.
White admitted five charges of indecent assault and two of gross indecency with a child, relating to the second boy, at a hearing last November. He also asked for four other offences to be taken into account.
January 4th, 2012 - Posted & Written by Simon Cross