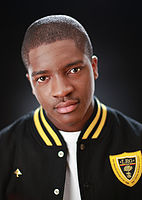 Urban Gospel star Guvna B enjoyed coverage on Radio 1 this week after appearing on the station's "Stories" programme, subtitled "Why We Make Music".
When asked why he makes music, Guvna B (real name Isaac Borquaye) responded: "I want to impact society with a positive message".
The Mobo award winning 22 year old said he grew up listening to music which inspired him to be "filthy rich...All you thought about was money, girls and cars."
"I became a Christian at the age of 17 and it was a massive change... I make music to inspire people to live more of a positive, law abiding life of faith."
The rap star has released two full length albums and currently presents a gospel music show on UCB radio. "I've got this message of peace, hope and happiness and if I kept quiet about it, it wouldn't be good of me. So I make music with a message of faith, but I don't want it to stay in the church," he said.
The full interview can be heard here from 42:10.
January 17th, 2012 - Posted & Written by Sam Hailes