Doug Fields, author of 'Purpose Driven Youth Ministry', wrote his quintessential guide to Youth Work over 10 years ago. Having sold over 300,000 copies, the popular guide has been re-released to Youth Workers keen to reach, teach and equip young people. I take a look at the book to see whether the 9 Essential Foundations for Healthy Growth have aged as much the front cover has.
Youth Work Isn't a One Player Game
Doug Fields (ex-Youth Leader at Saddleback Church, California) uses this analogy to begin the book – the church sees Youth Work as a sports team.
The sports fans (congregation) look to their favourite team (the youth group) and single out the key player (the youth worker) as pivotal to their team's success or failure. They charge into the role with bags of enthusiasm and quick-start plans (groups and events) to please the directors (church leaders).
But to please the fans and the directors (congregation and church leaders) they have to win games with spectacular results (double the youth group). They eventually run out of steam through running for so long and so fast that they become injured (burnt out) and have to be replaced (quit, or fired).
Sound familiar? That was Doug Field's experience, as he explains in the first chapter of the book. But after 20 years of hard work and dedication he managed to build a healthy youth ministry at Saddleback Church. Doug decided to write a manual to encourage a 'purpose-driven' ministry rather than 'program-driven', and hopefully break the torturous cycle. He called it 'Purpose Driven Youth Ministry'.
"I don't want to organise more activities. I want to impact more lives." – Doug Fields, from the inside flap of 'Purpose Driven Youth Ministry'.
'Purpose Driven Youth Ministry' is a practical strategy to help churches from falling into this 'sports fan' cycle. It's a blueprint, a framework, a manual to building a ministry that isn't dependant on a lone Youth Worker and that won't crumble when they move on. A healthy youth ministry that doesn't run events for young people, but disciples young Christians.
The 9 Essential Foundations for Healthy Growth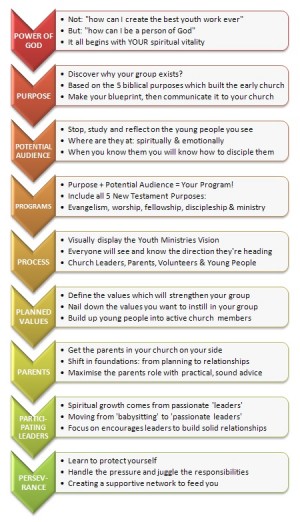 Inspired by his head pastor, Rick Warren, Doug used the 5 biblical purposes found in 'The Purpose Driven Life' (evangelism, worship, fellowship, discipleship and ministry) to lay down 9 essential foundations for healthy growth.
"Strong churches are not built on programs, personalities or gimmicks. They are built on the eternal purposes of God." – Rick Warren, 'The Purpose Driven Church'.
What The Youth Worker's Who Read/Applied The Original Book Have Said
Here's what some real-life youth worker/volunteers have said about 'Purpose Driven Youth Ministry':
Positive Reviews:
"This is the best book on youth ministry that I've read. Fields leaves no bases uncovered, from working with parents to handling discipline. I wish I had read this book before my first youth pastorate. It would have saved me many mistakes." – Andrew McHenry, Amazom.com Review.
"It transcends culture, which was a concern of mine in the beginning; however, after reading it, I can tell that it was truly God inspired. It exceeded my expectations." – LaTrisha, Christianbook.com Review.
"This book blew my mind!!! If your involved in youth ministry at all you need a copy of this buy, beg, steal, borrow, make your youth pastor and pastor read it, and anyone involved in youth ministry at your church should have access to the wisdom in this book." – Michael, Amazon.com Review.
Critical Reviews:
"The author doesn't speak much of Jesus in the book. If we are purposefully purposeful it accomplishes little, but if we are purposeful about bringing glory to Christ in every facet of life then fruit will show. It still does make for an okay recourse for administration." – Melvin Mercado, Amazon.com Review.
"Doug does a great job with this book. It has extremely practical teaching that is easy to apply to any cultural ministry scenario that a youth pastor can face … I feel that his book understates some important issues: 1) Prayer is the key to any ministry's survival. 2) The issue of shepherding (relationships built with staff, and youth is far more important that simply having an airtight mission statement)" – Paul J Krueger, Amazon.com Review.
New Cover, Same Foundational Message
Now that 'Purpose Driven Youth Ministry' has been given a fresh look, it's still the same quintessential guide that was released in 1998.
Almost 15 years on, and I think Youth Worker still need guides like this one which support them to build a ministry with vision and purpose – ultimately building an environment for genuine spiritual growth.
February 10th, 2013 - Posted & Written by James Warwood