Having been involved in running and implementing Holiday Clubs in the past, I have become a 'Holiday Club Evangelist'. Nothing, and I mean nothing, beats establishing and building relationships with families in your community than offering to entertain their children in the school holidays!
If your church is thinking about running an Easter/Summer Holiday Club, here's the latest programmes to get leaders, volunteers and kids (and their parents) jumping up and down with excitement.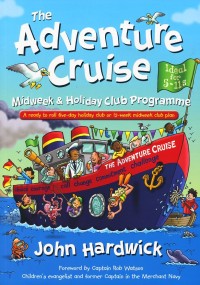 Action-Packed Adventure for 5-11's
produced by 'Barnabus for Children'
Theme Overview: Take your children on an adventure – but not on the 'high seas', but through the five C's (I know, but kids will love puns). Everything is water-rific – from crafting paper boats, to the hilarious 'Watt Families' dramas, to creative visual talks.
Day-by-Day Breakdown:
Day 1: The 'C' of Choice – when we choose to come to Jesus, he will not let us down (Jesus healing a man with leprosy, Luke 5:12-16).
Day 2: The 'C' of Courage – we can show great courage by through serving each other (the alabaster jar, Luke 7:36-50).
Day 3: The 'C' of Call – we are all equally loved and God hears us when we call out to him for help (Jesus heard the blind man's call, Luke 18:35-43)
Day 4: The 'C' of Change – when we let God in we become a new person (Zacchaeus' life-changing dinner with Jesus, Luke 19:1-10)
Day 5: The 'C' of Commitment – when we become a Christian, we must love each other as God loves us (the paralysed man and his four friends, Luke 5:17-26)
Extra Event: The 'C' of Challenge – take on the challenge of Christian life (two people who reached out to Jesus when it wasn't easy, Luke 8:40-56)
Age Range: 5-11 year old
Eden Recommendations: This resource is absolutely packed with, well... everything! Plus it's very adaptable and flexible. John Hardwick never fails to balance play, laughter & learning with perfection. Ideal for churches with limited space, leaders who need a no-hassle resource and a medium sized group (15-30 kids).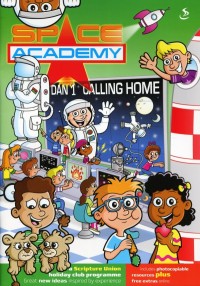 Highly Creative DVD-Based Club
produced by 'Scripture Union'
Theme Overview: With 5 DVD episodes by Bob Hartman, a scientific edge and tons of prayer, games & craft activities – kids will experience Daniel's incredible story, discover God's faithfulness and be trained in how they can stand up for Jesus.
Day-by-Day Breakdown:
Voyage 1: Forbidden Food – we all have choices to make, God wants to help us make the right ones (Daniel not eating from the Kings Table, Daniel 1:8-21)
Voyage 2: The Difficult Dream – God is on our side, he helps and protects his friends (the King's dream and Daniels reply, Daniel 2:1-2, 12-19, 31-49)
Voyage 3: Stunning Statue – stand firm in God's awesome power & worshipping God is the most important thing ever (refusing to bow to the statue, Daniel 3)
Voyage 4: The Heavenly Hand – challenge! Do I have a relationship with God? (King Belshazzar and the mysterious message, Daniel 5)
Voyage 5: In the Pit – God answers pray, but not just to the people who believe in him (Daniel in the lion's den, Daniel 6)
***Plus: Two Sunday Service Plans to Top &Tale the Holiday Club – Blast Off: Taken Away & Re-Entry: Back to Earth?***
Age Range: 5-11 years old (with resource for 11-14's available from the Space Academy website)
Eden Recommendations: Very intelligent and inventive theme – cleverly weaved into Daniel's amazing life (and how we see Jesus in his story). Love Bob Hartman's DVD episodes too, which add some visual excitement into the program. Ideal for churches with plenty of space, good equipment (projector & sound system), a leader with a creative brain and larger groups (20-40).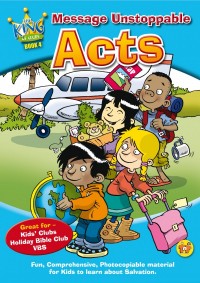 Memorable Gospel Presentation
produced by 'TNT'
Theme Overview: A non-stop, educational race around the world. Experience what happened when Jesus left a bunch of nervous scaredy-cats with a wonderful message that spread across the whole globe! Both culturally and biblically rich, this holiday club resource from the creators of 'On the Way' is all about the Good News for everyone.
Day-by-Day Breakdown:
Day 1: The Great Commission – the gospel is for EVERYONE (Acts 1:1-11)
Day 2: Beginning in Jerusalem – with the Holy Spirit everyone can hear & understand the gospel (Acts 2:1-42)
Day 3: Opposition – imprisonment couldn't stop the gospel (Acts 5:17-42)
Day 4: Persecution – we can response to the gospel in 2 ways: acceptance or rejection (Acts 6:7 & 8:3)
Day 5: Into Samaria – even an Ethiopian hears and responds to the gospel (Acts 8:4-8, 26-40)
Day 6: Gentile Believers – we can either join in or stand against it (Acts 10:1-48)
***Includes All-Age Service Plan***
Age Range: 5-11 years old (with fun sheet and activities split into 5-7's & 8-11's)
Eden Recommendations: Offers a solid and sturdy foundation for kids to build Christian values on. Ideal for churches that use 'On the Way' teaching resource, those looking for a simple & easy plan, to build Bible knowledge in Christian and non-Christian kids and small to medium groups (10-20 kids).
Here at Eden.co.uk we want to help you and your church run the best Holiday Club you can. So if you've got any questions about any of the Holiday Club Programmes featured, leave a comment on this article and I'll do my very best to track down the answer.
If none of those jump out at you, you'll find all the programmes still available from years past in our Holiday Clubs Department. We hope you find the right programme for your children (and your inner child too).
February 15th, 2013 - Posted & Written by James Warwood