St Paul's Cathedral was filled to overflowing yesterday as the members of "the2012" collective, a Diocese of London initiative mobilising a group of 2,012 young people to volunteer and serve during this summer's Olympics, were formally commissioned as Ambassadors by the Bishop of London.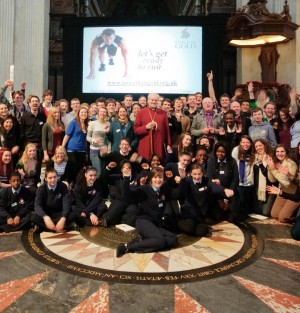 Members of the2012 are aged between 13-35 and come from all over London, and from all walks of life.
The volunteers will now be enrolled to help with a wide variety of Olympic initiatives planned by local churches and community groups across London. Projects range from distributing water to spectators, to operating community cafes where local people can gather to watch the Games.
Wheelchair racer Anne Wafula Strike, a GB Paralympic World Cup Team member and Team GB hopeful was at the service to address the2012. She said:
"As a Paralympian, I am full of admiration for everyone who is giving up their time, energy and dedication to volunteer to support others during 2012 Paralympic and Olympic Games in London. Each one of the commissioned ambassadors with be rewarded spiritually and they deserve a Gold Medal of their own."
Prayers at the service were led by Pete Greig, founder of 24/7 prayer. Peter is helping to coordinate 70 days of prayer through 1,000 communities across the UK with the Olympic Torch Relay, starting in Lands End on Saturday 19th May. He said:
"'It's thrilling to see thousands of young people galvanised by the Olympics, catalysed by their faith and mobilised to make a difference in our communities this year. With so many negative headlines about youth crime and youth unemployment, the2012 initiative celebrates the fact that most young people in our capital are fundamentally good and that Christian faith is as relevant as ever. I'm delighted to be involved."
The event marks the beginning of service for the2012. Over the past seven months, the young people have received training in preparation for volunteering during the Olympics. The training, which has taken place across London, has been overseen by the London Area Bishops and as well mobilising young Christians for community projects has also focused on helping them to live and share their faith.
April 25th, 2012 - Posted & Written by Riyaza Rodriguez