10,000 young people are to join the 80,000 planned attendence for the National Day of Prayer and Worship at Wembley Stadium on September 29th, 2012.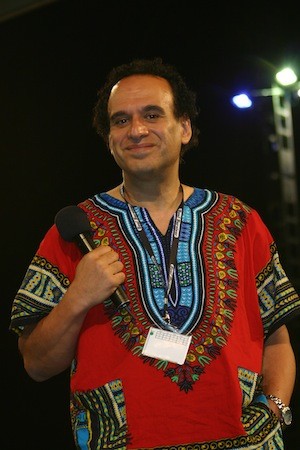 Mike Pilavachi
Organiser of Soul Survivor
Youth ministries across the UK including Urban Saints, Soul Survivor and Hope Revolution are backing the event.
Phil Hulks Cluster Development Director for Urban Saints said: "We are seeking to work alongside all national youth organisations, denominations and festivals to invite young people to be UNITED at Wembley. We believe that God has mandated us to carry a vision for revival and to call the youth of our nation to rise up to what God is calling them to at this time".
Director of Hope Revolution, the youth stream of HOPE Together Phil Timson believes Wembley 2012 will build a key foundation for future mission the UK.
"HOPE Together is building towards a massive year of mission in 2014 and we see Wembley 2012 as a fantastic opportunity of bringing young people together from right across the nation to be used by God as agents of change."
Another main supporter of mobilising young people to come to Wembley 2012 is Soul Survivor.
"We believe very strongly in the power of young Christians uniting in prayer. Therefore we stand united with other youth movements to encourage this generation to gather at Wembley to pray and worship together and then go back to their homes to do the stuff!" said Soul Survivor co-founder and leader Mike Pilavachi.
Lindz West, frontman for the youth band LZ7 said: "The National Day of Prayer and Worship is going to be an amazing opportunity for young people to get together and pray for our nation, so I encourage everyone to be there."
"The vision I saw of many young people marching as an army is about to be fulfilled at Wembley. This nation is about to witness an explosion of dynamic youth on fire for God and the kingdom," said GDOP London Convener Jonathan Oloyede.
Already that vision is starting to be fulfilled as many young people are being inspired to come to Wembley 2012. Pastor Jonathan Oloyede and the GDOP team were in Portsmouth at the International Fellowship of Christian Students this past weekend, where hundreds upon hundreds of young people from UK universities were invited to Wembley 2012.
May 2nd, 2012 - Posted & Written by Sam Hailes