Advent Frame
---
Sold Out!
---
Free UK delivery when you spend £10 or more
Price and Purchase
Offer price: £

64.53
Free UK Delivery
If you're buying for a church, school or business, why not Buy Now Pay Later?
Find Out More
Advent Frame
Full Product Description
14" Diameter for spiked candles

(Please note this is just the frame, candles sold separately)
Advent Frame is published by Charles Farris and is our 4435th best seller. The ISBN for Advent Frame is AF-04B.
Reviews of
Advent Frame
Customer reviews and testimonials Write a review
Product Q&A
Got a question? No problem! Just click here to ask us about Advent Frame.
Q: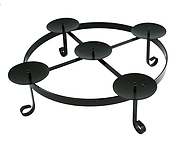 Advent Frame Product
A:
Hi Whitecross, It can hold five 2" candles. In fact, it was designed to do just so. Thank you for using the Q&A Forum. Aaron
Specifications
Details for Advent Frame
Publisher

Charles Farris

Weight
1498g
ISBN
AF-04B
ISBN-10
AF-04B
Product Code
125610
Page last updated
5th November 2017