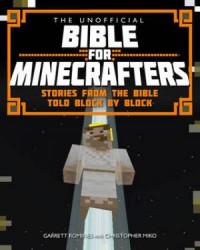 "No Aunty Laura! Not like that! … Shall I just do it?" Those are the words of my nephew, aged five and trying to teach me how to play Minecraft. Needless to say I ended up in the water and hastily handed the controller back to him.
It's safe to assume that I am not a minecrafter! But I'm beginning to feel in the minority. In just 6 years Minecraft grew from indie game to one of the biggest franchises in computer game history, empowering players to create whole worlds with its simple brick-based system, such as the Bible!
The Unofficial Bible for Minecrafters uses the famous pixelated game to tell the story of Christianity in a way that is appealing to fans of Minecraft, regardless of age. We liked the concept so much, we even gave it an award!
Since the release of The Unofficial Bible for Minecrafters, the book's creators, Garrett Romines and Christopher Miko, have gone on to release a combo of Old & New Testament stories, vividly bringing to life even more Bible tales.
Plus, this year has seen the release of two now books: The Unofficial Bible for Minecrafters: Heroes and Villains - six stories of the Bible's most well-known goodies and baddies and The Unofficial Bible for Minecrafters: Life of Jesus - Nine stories from the life and ministry of Jesus.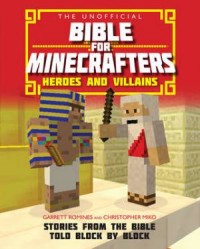 With rumours of more books to be released later this year, there is seemly infinite ways to portray Bible stories in the block-to-block format.
I'm optimistic about the future of Minecraft. For over six years it has captured the hearts and imagination of children and now that sense of awe and wonder is being channeled towards Bible stories, opening them up to 7-11s in a whole new way. In my opinion, that can only be a good thing and long may it continue!
July 4th, 2017 - Posted & Written by Laura White